News: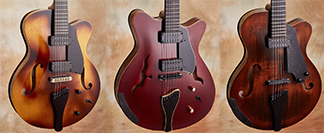 A Rare Moffa Trilogy
When we get a new Moffa guitar in the shop it is a big day. Three Moffa guitars at once is a rarety - in fact it has never happened before. But right now, we have three Moffa guitars for sale, one brand new and two pre-owned, and they are spectacular. Moffas are special for a number of reasons - if you just look at the photos it is easy to "get it." These are some of the most breathtaking instruments on the planet - and it just gets better from there. View our Moffa Mithra, Moffa Arch Lorraine or Moffa Acoustic Mithra.

Mario Martin guitars are here!
"One of my most long-standing nerdy guitar obsessions has been to give myself a guitar related challenge. I come up with a definitive guitar goal - a mission - and then set out to achieve it. I know in my heart that most guitar fanatics do this when searching for the guitar, amp or pedal that will bring us a sense of joy. I'm bringing this up because for some time I have been searching for a builder who can craft a Strat style guitar that combines two very important qualities - on the one hand it blows me away, and on the other hand it is gently priced.
"Using my treasured '56 Strat as my measure, I set out on my quest, trying guitar after guitar. In most cases I came up short. On the recommendation of monster guitarist Matt Henderson, I reached out to Mario Martin. His mission (if he chose to accept it) was build a Strat for CR Guitars, with my tweaks, that I could take on a gig and not have me wishing I had brought my '56. To my great delight, Mario nailed it!
"We now are proudly carrying Mario Martin Guitars with CR requested customizations so HAVE A LOOK!" - Craig Snyder
Featured Videos:
Recent Arrivals: