News:
End Of Summer Guitars Rolling In!
It is that time of year when the sleepy summer is slowly coming to an end and the foreshadows of fall are bringing a sense of newness and change - a perfect time for a big new batch of guitars to arrive - and arriving they are. We're working hard to get these numerous additions to our inventory up on the website. If you're reading this before they are all up we'd like you to know what's in store. We have instruments arriving from the workshops of Johan Gustavsson, Daniel Slaman, Nico Moffa, Joe Yanuziello, Bill Collings, and some added special treats, not to mention some names not yet seen around here; Theo Scharpach, Jersey Girl Guitars and Chris Swope. As usual, these are all hand-selected instruments, each with something truly special to offer.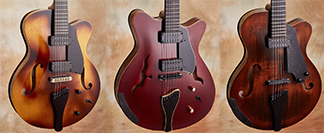 A Rare Moffa Trilogy
When we get a new Moffa guitar in the shop it is a big day. Three Moffa guitars at once is a rarety - in fact it has never happened before. But right now, we have three Moffa guitars for sale, one brand new and two pre-owned, and they are spectacular. Moffas are special for a number of reasons - if you just look at the photos it is easy to "get it." These are some of the most breathtaking instruments on the planet - and it just gets better from there. View our Moffa Mithra, Moffa Arch Lorraine or Moffa Acoustic Mithra.

Mario Martin guitars are here!
"One of my most long-standing nerdy guitar obsessions has been to give myself a guitar related challenge. I come up with a definitive guitar goal - a mission - and then set out to achieve it. I know in my heart that most guitar fanatics do this when searching for the guitar, amp or pedal that will bring us a sense of joy. I'm bringing this up because for some time I have been searching for a builder who can craft a Strat style guitar that combines two very important qualities - on the one hand it blows me away, and on the other hand it is gently priced.
"Using my treasured '56 Strat as my measure, I set out on my quest, trying guitar after guitar. In most cases I came up short. On the recommendation of monster guitarist Matt Henderson, I reached out to Mario Martin. His mission (if he chose to accept it) was build a Strat for CR Guitars, with my tweaks, that I could take on a gig and not have me wishing I had brought my '56. To my great delight, Mario nailed it!
"We now are proudly carrying Mario Martin Guitars with CR requested customizations so HAVE A LOOK!" - Craig Snyder
Featured Videos:
Recent Arrivals: