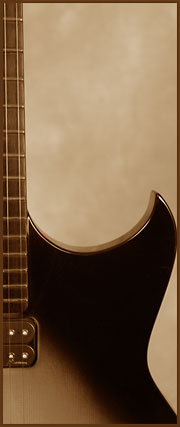 "It's out there, the guitar for you,
..the one you know is 'the one' the moment you pick it up. If you've ever had that feeling before, you want to feel it again. If you haven't, then it's time that you did. That's where I come in. I know how great that feels. That's why CR Guitars was started, to help you find that guitar. I'm a professional guitarist, composer, and musician, playing in every genre imaginable, and I've been obsessing over guitars for a very long time. Over the course of my 30 year career, I've noticed that a large number of players like my personal preferences in guitars – my preferences seem to resonate with them. Makers have asked for my input on their designs. And I've given it. To that end, I'm taking a unique approach to being a guitar dealer. I've chosen to work with a handful of builders I know and respect. Every instrument I sell will be custom ordered from these makers, so that the guitar you get is a guitar you'll cherish. My sincere hope is that the moment you put it in your hands, you will have found it. The guitar for you." - Craig Snyder

Welcome To A Brand New Phase!
About CR Guitars--meet Craig and Renée Snyder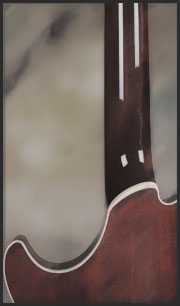 Craig and Renée Snyder are hardly new to the music industry, having run a successful music house for the 20+ years. Their clients have run the gamut. They include American Express, Tribeca Film Festival, Nokia, Bank of America, Walmart, Miller Beer, Coca Cola, Mercedes, Jaguar, Chevy, IBM, Saturn, Marriot, Web MD and many more (really, MANY!). If you've viewed or heard any media from roughly 1990 onwards you've heard their work, and you've definitely heard Renée sing. But that's not where it all started...

One of Craig's favorite memories was when, as a 12 year old, his father took him for a tour of the Gretsch Guitars factory. At one point during the tour, Craig was ushered into a room full of Gretsch Country Gentlemans. One after another, he got to try them all out. That was one of the earliest moments when he realized that every guitar was unique, even the same models.

Craig grew up surrounded by guitars. He studied with Pat Martino and Dennis Sandole and before long started acquiring some historic gigs. As a session player and live performer, Craig has played with Elton John, The Village People, Roberta Flack, Diana Ross, Ray Charles, Donna Summer, Grace Jones, John Travolta, Edgar Winter, Arthur Prysock, Patti Labelle, and many more (really, MANY!). He also became a ubiquitous product endorser, working with Ibanez, having an artist's deal with Gibson and becoming an R&D champion for many builders and companies. Craig has been deep inside the world of guitars, in ways that few people ever have been. In his words, he's been a lucky guy who plays guitar and has done pretty good.

And Renée, she's got the business chops, and an artistic sense that could end wars. Renée's career has always been in the music business, whether it be on the creative side or business side. Besides being a business manager for artists and running the operations of Craig and Renée's music house, she is also a recording artist in her own right, releasing a critically acclaimed CD of her original songs. Being a musician, working with musicians, and living with a musician for over 30 years, she understands the heart and soul of a musician. She knows how to do things right from beginning to end. You'll feel it when you do business with CR Guitars.

So, welcome to a brand new phase. One where Craig and Renée venture into new territory and bring you spectacular things. Hand selected things.