Thorn Artisan Ltd Series 3, 2015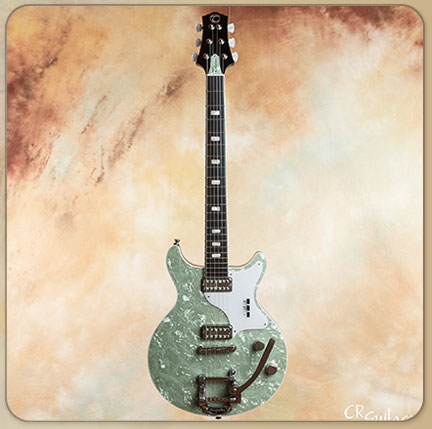 Price: $--SOLD
inquire - info@crguitars.com
call us -
Preowned 2015
Originally sold in 2015, the condition of this Thorn Artisan is like new with barely any playing time on it. Thorn sent this guitar out when it was originally built to our friend and writer Dave Hunter. See below for Dave's awesome review of this guitar that was featured in Guitar and Bass Magazine.
CRAIG'S POV
I originally sold this Thorn Artisan in 2015. The condition is like new with barely any playing time on it. Thorn sent this guitar out when it was originally built to my friend and writer Dave Hunter. Below is Dave's awesome review that was featured in Guitar and Bass Magazine…… thank you Dave!
"I have sometimes experienced a sort of inverse relationship between the amount of precision a guitar maker brings to their work and the character evident in the results. Occasionally,
a guitar rendered with a high degree of technical achievement can come off a little 'cold'. Not so the creations of Ron Thorn.
"I've had four of this California-based small-shop maker's guitars in my hands over the past two years, and in each case I can say I've never held a more faultlessly executed instrument. And each was different: one a set-neck, flame-topped LP-meets-Tele rocker; another a bolt-neck Californian hotrod; yet another an original take on the 335 theme; and now this guitar from Thorn's Artisan Limited Series 3, a Gretschified pearl-topped twang machine with retro cool to burn.
"As immaculately put together as each of these guitars has been, each has exuded a muse-like charm that inspires you to just keep playing, with a flawless playability that makes it easy to do so. How do Ron and his small team achieve all this, and at far-from-ridiculous prices, too?
"In large part, I believe, it just comes from knowing their craft, and having pride in getting things right. Put differently, think of marrying the high-end watchmaker's level of precision, the custom cabinet maker's attention to detail, and the visual artist's uncompromising sense of aesthetics and applying the formula to producing electric guitars, and you're beginning to grasp what Thorn achieves."

Read the rest of this article here: http://www.guitar-bass.net/features/letters-from-america-thorn-artisan-limited-series-3/
If you'd like to find out more about this item, just call or e-mail me. It would be my pleasure to talk to you about it.
ABOUT THORN CUSTOM GUITARS
Raised in a family of carpenters, Ron Thorn had access to a home wood shop for as long as he can remember. Repairing, modifying and building guitars since age 13, his specialty became precision inlay work and by the mid '90s he became the sole inlay artist for the Fender Custom Shop, a position he is still proud to retain today. In 2000 Ron began putting the Thorn name on the headstocks of some of the many guitars he was building and today, with his father and the rest of "team Thorn" - John Gaudesi, Nick Viglienzoni, Tony Ramirez, Glenn Matejzel and Martin Bravo, Thorn's Glendale, CA operation builds approximately 50 custom guitars a year. Those who know, know Ron as one of the most brilliantly talented luthiers and inlay artists of the 21st century. It is a reputation that has earned him a following that is best described as "near fanatical."
| | |
| --- | --- |
| Serial # | 5 of 7, 2015 |
| Top | carved mahogany, perloid |
| Body | mahogany, semi-hollow |
| Neck | mahogany |
| Fretboard | ebony |
| Radius | 12" |
| Nut width | 1 11/16" |
| Neck carve | med/fat C, .860/.950 |
| Fretwire | 6150 |
| Pickups | TV Jones |
| Finish | nitro- lacquer, surf green pearloid top, raven black-back |
| Bridge | Bigsby |
| Weight | 7.2 lbs |
| Case | hardshell |