Steve Andersen Electric Archie - preowned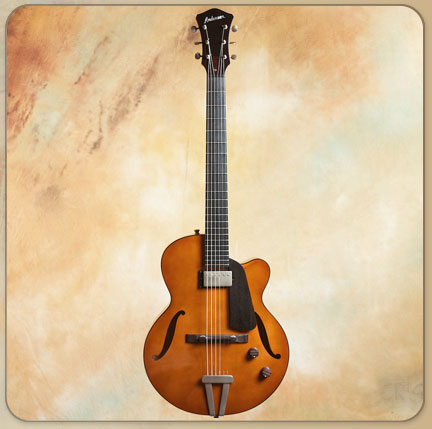 Price: $--SOLD
inquire - info@crguitars.com
call us -
BAM original custom hard case
Welcome, Steve Anderson, to CR Guitars! This is a variation on Steve's Little Archie created especially for CR Guitars - with built-in pickup, f-holes, aged pickup covers and tailpiece, and finished with a sort of gold toned nitro - the back will remind you of a fine violin. It's just effortless to play. Through an amp, this is just perfect for any gig. Hard to imagine you'd ever need anything else. And it has a phenomenal acoustic sound.
CRAIG'S POV
Welcome, Steve Andersen, to CR Guitars.
For many of you, Steve Anderson will need no introduction, as you're probably already aware of his exemplary work. For those of you who don't know of him, this is very special introduction for me.
I've known Steve for many years - since the late '90s - and he's built some wonderful guitars for me. He is a justifiably renowned builder of fine archtops, and there's one guitar he makes that almost defines him: The "Little Archie," a 14 inch archtop that's legendary. He's the only builder I know that makes such killer small archtops.
Steve's schedule is very busy, and his wait list is long, but I had an idea for a special model just for CR Guitars, and after some wonderful conversations, Steve agreed to make a version of the Little Archie for us.
Basically, I wanted a version of what is, basically the Little Archie, but with a built-in pickup in the neck position. Steve has made Little Archies with floating pickups, with holes in the upper bout, but I wanted a single pickup model with f-holes; a custom version of something Steve calls "Electric Archie."
I made these choices because of my deep, deep love for the Gibson 175 (which I think is one of the greatest guitars of all time-and I'm not alone in that perception). I also am a great admirer of Gibson's L-5 - which is more of a 'luxury' model.
What I had in mind was a smaller version of the ES-175, what was, and is, the classic "working musician's" instrument. The 175 was what I used throughout my playing career. But I also wanted to leverage Steve's exceptional archtop building skills.
What he's created is a combination of both: the smaller sensibility of a 175 with built-in pickup, and the carved top and back of an L-5.
It's actually smaller than a 175 (14 1/2 body width), with a 2 1/2 inch body depth that is just perfect.
Another thing Steve and I talked about (at length) was that I wanted the guitar to have a sort of warmed patina - not an aged finish, but something to make you feel that this guitar has a lot of music in its heart. To that end, Steve aged the pickup covers and the tailpiece, and finished it with a sort of gold toned nitro finish - the back will remind you of a fine violin.
It has an ebony fretboard, tortoise shell binding (on the f-holes as well) a stinger on the headstock - just like the old Gibsons had, and a slightly longer than Gibson scale length: 24.9 inches. It all works perfectly together.
The nut width is 1 3/4 inches - which I feel is great for someone coming from either the electric world, or someone coming from the acoustic side of things; you'll all feel just completely comfortable. (The 14 inch body size will also immediately feel great for someone used to electric solid bodies.)
The woods Steve uses are gorgeous. The maple on the back of the guitar is, as I've mentioned, reminiscent of a fine violin. And the neck is curly maple with a beautiful flame. Steve's materials are as good as you can get. At any price. A Gibson Citation is not going to be made with finer wood than this.
As for the neck shape, Steve's C-shape is carved perfectly. Just a wonderfully seductive shape that fits in your hand perfectly. I actually smiled when I first picked it up, the way D'Aquisto's necks make me feel.
It's just effortless to play. A joy. I'm blown away. Through an amp, this is just perfect for any gig. I can't imagine you'd ever need anything else. And it has a phenomenal acoustic sound; bigger to me than an unplugged L-5. It's not overbuilt. It's alive.
This guitar talks to me. It is me. I've always felt that a guitar should be more than an object of beauty. A great guitar should be an elegant tool. And that's what this is. It just screams to be played.
With all this, it's quite affordable, something that a working player could afford, but gives you the eloquence of what the finest archtop makers can do (Steve, of course, being one of them) when they're at the top of their game.
I've waited for this a long time. I am fortunate in that I've put in an order for a couple more, and Steve has agreed to fit a few into his work schedule.
Steve blew me away with this guitar. It's a remarkable instrument. I can't think of a single way to improve it. To me, it's just perfect.
If you'd like to find out more about this item, just call or e-mail me. It would be my pleasure to talk to you about it.
ABOUT ANDERSEN STRINGED INSTRUMENTS
Steve Andersen has been making guitars and mandolins for over 35 years. Since 1990 he has primarily built archtops, with a respectful eye toward the great guitars of the past, and a keen and ongoing interest in finding new avenues to explore. The Andersen workshop is known for such innovative models as the Little Archie, the Emerald City and the Gold Standard. Having built nearly five hundred instruments has given Steve a deep understanding of the multitude of variables involved in building a great guitar. In his one man shop he builds around a dozen instruments per year, which affords him the opportunity to work on just one guitar at a time.
| | |
| --- | --- |
| Body size | 14" x 2.5" |
| Top wood | Engelmann spruce |
| Back and sides | western maple |
| Finish | goldtone nitro |
| Fretboard, bridge and pickguard | ebony |
| Binding, body and pickguard | tortoise celluloid |
| Pickup | Lollar Imperial in aged nickel |
| Tuners | Waverly aged nickel |
| Tailpiece | brass with aged nickel finish |
| Control knobs | Macassar ebony |
| Scale length | 24.9" |
| Nut width | 1 3/4" |
| Case | custom gig bag |