PRS Private Stock Santana Retro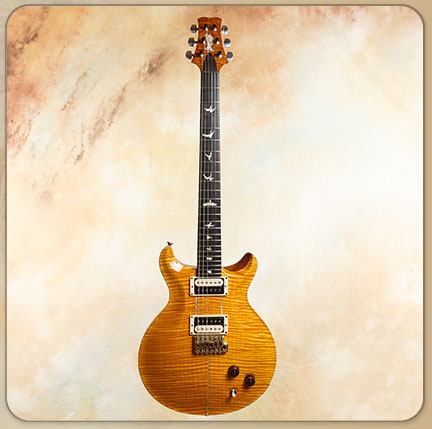 Price: $--SOLD
inquire - info@crguitars.com
call us -
hardshell case included
Inspired by Carlos Santana's Pre-Factory guitar, the Private Stock Santana Retro model balances several of Paul Reed Smith's original design elements from the early 1980's with modern designs and specifications.
CRAIG'S POV
I grew up playing great guitars. I was all of 10 years old when my father, a musician, introduced me to the guitarist who played in his band. Little did I know that that introduction would spoil me for life.
Don, his guitar player, let me play his D'Angelico New Yorker Special. I still remember that moment and how it affected me. How magnificent a guitar could be, its look, its feel, its smell, its sound, its indescribable yet clearly evident QUALITY. (Please read Zen and the Art of Motorcycle maintenance for the definition of QUALITY.)
My father also owned a music store, so I was constantly around the great (and not so great) guitars of the '50s and '60s. I became aware at a young age that there was some sort of geometry, some kind of magic brew, some sort of something that made a specific guitar inspiring and desirable.
As a professional player and collector, I've spent years searching for that magic in the guitars that I play and own. As a shop owner, I've promised myself and my customers that I would only offer guitars that had the potential to crack that ineffable "code" that makes a great guitar great. I insisted that I would only align myself with builders who were in a constant search to not just crack the code, but who were capable of making remarkable instrument based on their revelations.
I found a fellow traveler in that search in Paul Reed Smith. He needs no introduction, of course. You might wonder why a small dealer like me would be selling Paul's guitars. The answer is that I wanted Paul Reed Smiths built with the personal supervision and genius of Paul Reed Smith himself.
And now that's possible.
Paul Reed Smith runs the Private Stock Division of PRS. I'm happy to say we've connected on a very deep level. He's like me. He never stops comparing modern guitars to the greatest old guitars of the past. His goal in life is to break the code. To this day, he can pick up one of his guitars and be critical enough to know where he's succeeded, what might be missing, and, more importantly, how to get always closer to that golden ideal.
Paul Reed Smith Private Stock may conjure up images of flamboyant inlays and colorful finishes. However, I'm all about the instrument. My personal taste leans towards clean, elegant styles that accentuate the premium woods I've chosen, perfect neck shapes, and only the finest electronics and accompanying materials. In my opinion nobody but a very select few luthiers have the selection of woods that Paul has. If I want a Brazilian rosewood neck or curly mahogany body, all I have to do is ask Paul for it. Whatever I can imagine in most cases I can get.
---
The Guitar
Inspired by Carlos Santana's Pre-Factory guitar, the Private Stock Santana Retro model balances several of Paul Reed Smith's original design elements from the early 1980's with modern designs and specifications. Like Paul's original instruments, the Santana Retro has a deeper body carve and scoop and an original-style heel. The headstock shape is the same as the original guitars made for Carlos and has been moved closer to the body so that the nut place is more in line with historic specs.
Other specifications include a Private Stock grade maple top, mahogany back, purfling strips on the body glue joints a 24 fret, 24.5" scale length mahogany neck, "pre-factory" Santana inspired neck carve, Santana fret wire, PRS old-style birds and "pre-factory" Private Stock eagle inlays, high-gloss nitro finish, PRS locking tuners, an unplated PRS tremolo, and a paisley hardshell case. The electronics for this model include one volume and tone control with a 3-way toggle pickup selector.
This is simply a superb instrument - the equal of any electric guitar made by anyone anywhere.
If you'd like to find out more about this item, just call or e-mail me. It would be my pleasure to talk to you about it.
ABOUT PRS PRIVATE STOCK
Everyone has heard of PRS Guitars; they are one of America's great entrepreneurial success stories. But not everyone has heard of the Paul Reed Smith Private Stock instruments. These are special guitars, in every sense. That's what inspired us here at CR Guitars to seek them out; they conform perfectly to our vision of what "hand selected" really means. The goal behind the PRS Private Stock of instruments is not only to create the most beautiful and best playing guitars money can buy, but the best sounding. PRS works very closely with each order - through hourly discussions, experimentation, meticulous checks of every detail at each step in the process and making final tweaks when the guitar is complete - to make sure they are building the best guitars possible. If you get an extraordinary instrument from Private Stock that is equally as good as a family heirloom and a musician's tool to make a living on, then the Private Stock goal has come to fruition.
"Whether built to your specification or ours, every Private Stock instrument is carefully guided through the process by highly talented, seasoned guitar makers, and each completed instrument is checked and signed by Paul Miles and me. From all of us on the Private Stock team, thank you for looking at and considering a Private Stock instrument. If you decide on a Private Stock guitar, we will give everything we have to make it the best instrument you've ever experienced." - Paul Reed Smith
| | |
| --- | --- |
| Private Stock # | 5516 |
| Serial # | 217759 |
| Top | private stock grade maple |
| Finish | Santana yellow high-gloss nitro |
| Back | mahogany |
| Neck | 24 fret mahogany |
| Fretboard | Brazilian rosewood |
| Scale length | 24.5" |
| Neck carve | "Pre-Factory" Santana inspired |
| Fretwire | Santana |
| Inlays | PRS old-style birds & "Pre-Factory" Private Stock eagle |
| Tuners | PRS locking |
| Tremolo | unplated PRS |
| Pickups | Santana treble and 57/08 bridge |
| Electronics | one volume & tone control with 3-way toggle pickup selector |
| Case | paisly hardshell |
| Weight | 6.7 lbs |