Sadowsky Nylon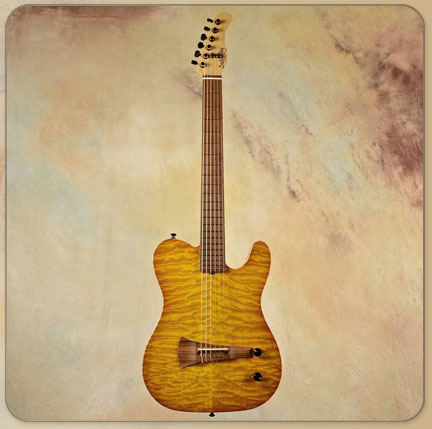 Price: $--SOLD
inquire - info@crguitars.com
call us -
Sadowsky custom case included
"Back in the '80s, if you wanted a feedback resistant electric nylon, there were very few choices available. If you didn't like the Gibson Chet Atkins nylon string, you were out of luck. I had a lot of sessions that called for a nylon string, and just couldn't find a guitar that fit the bill. I talked to Roger, and with that in mind, Roger set out to make an electric nylon that wasn't just functional, but was, in and of itself, an inspiring instrument to play." - Craig
The Sadowsky Electric Nylon String Guitar is a solid body instrument designed to be played with nylon strings. Designed for the electric and acoustic guitarist, the neck is thin and comfortable, with just enough extra width to accommodate the nylon strings. An acoustic style bridge graces the beautiful maple top. The transducer pickup located beneath the bridge saddle is powered by a custom Sadowsky preamp. The instrument lends itself to both pick and fingerstyle techniques and produces exceptional tone either direct into a board or through a variety of amps and PA systems. It is feedback-free and is suitable for small clubs or large stadium concerts. The Electric Nylon is currently being used by Earl Klugh, Pat Metheny, Lee Ritenour, Gilberto Gil, John Abercrombie, John Scofield, Mike Stern, Mick Goodrick, and Keith Richards.
NOTE FROM ROGER SADOWSKY
"In 1990, I had just completed my first Electric Nylon guitar when Pierre DeBeauport, then guitar tech for The Rolling Stones, came to the shop to prepare us for working on their instruments in preparation for The Steel Wheels tour. I showed the Electric Nylon to Pierre and he thought Keith Richards might be interested in it, so I let him take it to Keith to try out. Keith loved it, purchased #1 and ordered #2. He used them on the Steel Wheels tour, including on 'Paint It Black' and 'Ruby Tuesday'."
CRAIG'S POV
I've had a long history with this particular Sadowsky model.
Back in the '80s, if you wanted a feedback resistant electric nylon, there were very few choices available. If you didn't like the Gibson Chet Atkins nylon string, you were out of luck. I had a lot of sessions that called for a nylon string, and just couldn't find a guitar that fit the bill. I talked to Roger, and with that in mind, Roger set out to make an electric nylon that wasn't just functional, but was, in and of itself, an inspiring instrument to play.
I did quite a bit of R & D for Roger on this model. After several prototypes, and a lot of learning, discussion and brainstorming, the Sadowsky Nylon was born.
As far as I'm concerned, it's still the best guitar design in the category. Period. What's truly amazing about it is how well it crosses over genres. Keith Richards plays one. So does Pat Metheny. Lee Ritenour does. So does Earl Klugh. See what I mean?
It plays as easily as any of Roger's NYC model electrics. The pickup and buffer amp each are specially designed to give you the warmth and breadth you'd expect from a nylon, along with a crystalline high end that's never overly bright.
It's just so usable. The nut width is 1 7/8", which I feel is the perfect size for a crossover nylon. The neck profile is sweet and comfy just like the finest of Roger's handmade guitars.
And damn, is it beautiful! A wonderful caramel burst finish lights up a three dimensional premium quilted maple top. The figured equatorial mahogany body is lightweight and so resonant…resonant…resonant.
It's all topped off with a very cool Kasha-inspired bridge that comes straight from the hands of Mr. Sadowsky.
This is a guitar that could find its place in any music. This is a guitar that should find a place in YOUR music. I'd be more than happy to extol its virtues so...
If you'd like to find out more about this item, just call or e-mail me. It would be my pleasure to talk to you about it.
ABOUT SADOWSKY GUITARS
Mention the name Roger Sadowsky to your average guitar player, and you'll likely elicit a "Roger Who?" But that name is spoken in almost reverent tones amongst working musicians. Sadowsky has built this reputation by giving the modern guitarist and bassist what he needs--a no-nonsense, versatile, and reliable electric guitar that performs great and sounds better. Of course, these are claims made by every guitar company in existence; but Sadowsky Guitars is one of the very few companies that can actually back it up. Sadowsky Guitars is based in Long Island City, in Queens New York where founder Roger Sadowsky built the business from the ground up in 1979, after 7 years of guitar luthier training. Today, the Sadowsky company has around 10 employees and caters to guitarists such as; Walter Becker, Jim Hall, Chuck Loeb, Russell Malone, Jimmy Bruno, and Lee Ritenour.
| | |
| --- | --- |
| Body | chambered equatorial mahogany |
| Top | premium quilted maple |
| Neck | clear flatsawn maple with madagascar fingerboard |
| Finish | caramel sunburst with scraped binding |
| Nut width | 1 7/8" |
| Fingerboard radius | 12" |
| Scale length | 25 1/2" |
| Electronics | custom made Fishman piezo with Sadowsky buffer preamp, volume and passive tone |
| Strings | GHS 2390 recording nylon |
| Weight | 5.5 lbs |
| Case | Sadowsky custom |