PRS Private Stock Hollowbody I JK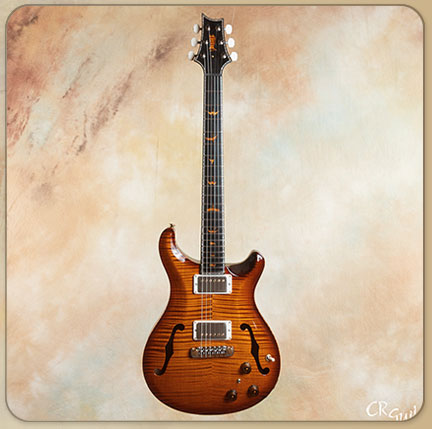 Price: $--SOLD
inquire - info@crguitars.com
call us -
a joint effort by PRS, Jason Kostal, Aulsen Inlay and CR Guitars
The guitar is stunningly beautiful. It could be a museum piece for sure, but this guitar also wants to be played. It has a fast and comfortable neck, and a dynamically responsive and rich tonal pallet. The PRS humbucker pickups and piezo system give the electric sound a breath and depth that can cover any style of music, and the acoustic tone is balanced and full, with rich harmonic content.
CRAIG'S POV
THE STORY OF THIS VERY SPECIAL GUITAR
Jason Kostal and I have nurtured a friendship over many years because we both share an enduring passion for fine instruments. I made my living playing guitars before forming CR Guitars, and Jason, after a career in the military and then in the corporate world, decided to turn his passion for playing and making guitars—long an active hobby—into his life's work. Most significantly his journey included a 30 month apprenticeship with the storied master luthier and teacher Ervin Somogyi. Over the last decade Jason has studiously become one of the most important acoustic guitar makers working in the world today, a master luthier in his own right, and someone I respect enormously.
But before he was a master luthier, he was a passionate PRS player and collector. His love of PRS guitars dates back to childhood when a member of his high school band brought a PRS Custom 22 to a rehearsal. For Jason it offered a tantalizing contrast to the Fender and Gibson guitars that he had been playing, a unique instrument that spoke to him.
I work closely with the PRS Private Stock team developing instruments, and because Jason's love of PRS instruments has led to his impressive collection of custom PRS guitars, it shouldn't be surprising that we often speak about Paul Reed Smith. During one of those conversations some time ago I asked Jason to imagine his perfect PRS guitar. We were talking at the time about electric guitars, and Jason mentioned that he yearned for an electric instrument that was built with the same passion and attention to every detail that he brings to each of his acoustic masterpieces.
Out of that conversation emerged a PRS design that was essentially what Jason would make if he worked at the PRS custom shop and could build any guitar he wanted.
The process took extensive work over many months. It was a given that premium tone woods would be used for uncompromising tone in the final guitar, but Jason also has a very evolved design aesthetic, and we decided from the start to not settle for anything less than his vision. Over the course of many months a collaboration developed between me, Jason, the PRS custom team, and inlay artist Jamie Aulsen. It was kind of a "dream team" of guitar developers, and it took all of our skills to bring Jason's vision to life.
Surprisingly, the inlay work on the fretboard was perhaps the greatest technical challenge. Jason wanted to have custom PRS bird inlays that matched the intense figured maple top. The problem was that figured maple inlays would darken over time due to finger oils (this guitar was always meant to be played). At first, the task seemed impossible, but along the way Jason had an epiphany to slightly recess each inlay and cover them with a thin layer of museum grade epoxy. It goes without saying that his solution to the problem required highly developed technical expertise to achieve, but the team was up to the challenge.
All the elements came together in the end, and our team (CR Guitars in New York, Jason in Arizona, Aulsen Inlay in Maryland, and PRS also in Maryland), worked tirelessly to realize what is both aesthetically and sonically a truly magnificent guitar.
Jason is absolutely thrilled with the result, a electric guitar he can call his own. It goes without saying if you can make an electric guitar that leaves one of the best acoustic guitar makers in the world wanting nothing, that seems the very definition of a successful instrument.
THE GUITAR
I have to say, I LOVE this guitar. The PRS Private Stock team sits at the very pinnacle of electric guitar luthiery, and every Private Stock guitar we have had in the shop has been truly amazing. For me though, one of the coolest things about this guitar is how it came about. Usually I spec the Private Stock guitars, and the team makes what I want. But this guitar was a true collaborative effort where everyone shared in the development process to achieve the dream of a friend and world class acoustic guitar maker.
The guitar is stunningly beautiful. It could be a museum piece for sure, but this guitar also wants to be played. It has a fast and comfortable neck, and a dynamically responsive and rich tonal pallet. The PRS humbucker pickups and piezo system give the electric sound a breath and depth that can cover any style of music, and the acoustic tone is balanced and full, with rich harmonic content. The Hollowbody model is more feedback resistant than the Archtop model, and can therefor handle pretty significant amplifier volumes, yet it retains the crisp acoustic tone of an archtop. Unless you are playing through a cranked up amp with singing harmonic distortion, then it is pure electric!
The maple in the top sets the visual tone for the entire guitar. It's a deeply figured maple that PRS calls "curly" but that I see as "flamed" maple. The masterful finish brings out the three dimensional quality of the figure so that it leaps off the top, and the tint of the coloring gives the guitar a real vintage look. The figured maple neck is perfectly matched to the top, and the design coup de grace: all of the inlay birds on the neck and headstock have the same matching figured maple. As far as I know the inlay concept is entirely unique in the world, and it is honestly some of the most incredible work I have ever seen.
The headstock is elegant, with a textural and visually satisfying mother of peal binding that matches the fingerboard binding. Yet the binding on the guitar body is wood and without mother of pearl, giving the guitar's visual beauty a wonderful balance. There is nothing ostentatious about this instrument, yet it has a masterful presence: It announces itself as something special but also does so with humility.
At CR Guitars we carry special instruments. In fact all our guitars are special. I have spent my entire adult life learning about and playing electric guitars, and, especially, how to find the best ones out there. In my career as a guitarist the knowledge was for me, for my playing, but in bringing CR Guitars into the world that knowledge is now for everyone. Still, every once in a while, even in a group of the best-of-the-best, one stands out just a little from the pack. This guitar is one of those. All the guitars at CR Guitars are special, but perhaps I would add the word "very" to this one. It is, indeed, a very special guitar.
If you'd like to find out more about this item, just call or e-mail me. It would be my pleasure to talk to you about it.
ABOUT PRS PRIVATE STOCK
Everyone has heard of PRS Guitars; they are one of America's great entrepreneurial success stories. But not everyone has heard of the Paul Reed Smith Private Stock instruments. These are special guitars, in every sense. That's what inspired us here at CR Guitars to seek them out; they conform perfectly to our vision of what "hand selected" really means. The goal behind the PRS Private Stock of instruments is not only to create the most beautiful and best playing guitars money can buy, but the best sounding. PRS works very closely with each order - through hourly discussions, experimentation, meticulous checks of every detail at each step in the process and making final tweaks when the guitar is complete - to make sure they are building the best guitars possible. If you get an extraordinary instrument from Private Stock that is equally as good as a family heirloom and a musician's tool to make a living on, then the Private Stock goal has come to fruition.
"Whether built to your specification or ours, every Private Stock instrument is carefully guided through the process by highly talented, seasoned guitar makers, and each completed instrument is checked and signed by Paul Miles and me. From all of us on the Private Stock team, thank you for looking at and considering a Private Stock instrument. If you decide on a Private Stock guitar, we will give everything we have to make it the best instrument you've ever experienced." - Paul Reed Smith
| | |
| --- | --- |
| Serial # | 15-223456 |
| Model | Hollowbody I with PRS piezo, Private Stock 5615 |
| Neck wood | curly maple |
| Fingerboard wood | ebony |
| Top wood | curly maple |
| Back wood | curly mahogany |
| Headstock veneer | ebony |
| Neck carve | pattern |
| Side dots | ivoroid |
| Colors/stain | violin |
| Fingerboard inlays | stained curly maple / gold mother of pearl / mother of pearl and maple "Strad" purfling |
| Headstock insignia | stained curly maple / Private Stock eagle with gold mother of pearl / mother of pearl and maple "Strad" purfling |
| Finish type | high gloss nitro |
| Pickups | treble - 57/08, bass - 57/08 |
| Electronics | volume, tone with 3-way toggle and PRS piezo system |
| Bridge | gold nickel PRS adjustable stop tail |
| Tuners | phase III locking with ivoroid buttons |
| Set up | D'Addario 0.010 |
| Case | Private Stock leather |