Marchione Semi Hollow Electric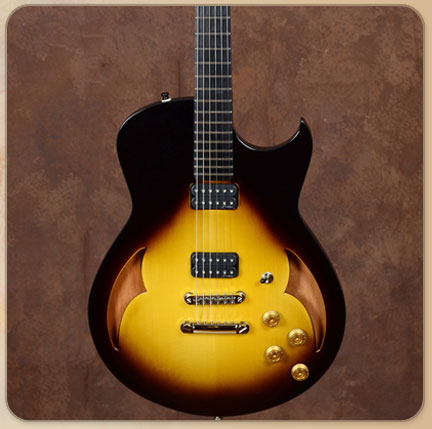 Price: $--SOLD
inquire - info@crguitars.com
call us -
This example is sold, but more are coming by the end of the year. If interested, be sure to contact us and reserve a slot as these don't come along often.
This new Semi–Hollow Body from Stephen Marchione was created with professionalism above all else in mind. The idea to construct such an instrument was born one evening when Stephen encountered Mike Moreno, a renowned New York based jazz musician, at a private concert. Stephen watched on as Mike played with his standard semi-hollow body guitar. Clearly impressed with his virtuosic jazz chops, Stephen nonetheless felt that Moreno was robbed of sound quality by his very own instrument.
After the show Stephen talked with Moreno and proposed building a semi-hollow body electric guitar with his carefully developed 15" Mark Whitfield Archtop guitar as the base design. Moreno agreed and months later he and Stephen were both thrilled with the pictured result. The tone and sustain dealt out by this guitar is truly astonishing…
The body of the semi-hollow guitar is made of gorgeous Italian alpine spruce top and an African mahogany back. Divine. The neck is crafted from Honduras mahogany and the fingerboard is black African ebony. Marchione integrated his archtop neck stabilization system that incorporates a stainless steel truss rod with 2 carbon fiber re-enforcements on either side. Finally, the instrument is finished with true nitro-cellulose lacquer.
The guitar is pictured with a traditional tobacco sunburst finish but it is available in a variety of colors… just ask.
ABOUT MARCHIONE GUITARS
At one time in his life, Stephen Marchione spent six hours a day playing the guitar. Now he makes them—in fact, since beginning his career as a guitar maker in 1989, Stephen has created more than three-hundred guitars for some of the best guitar players in the world. The journey from high-school jazz devotee to "the finest young guitar maker working today," according to Chamber Music America, was a rich and complicated one. After establishing his own brand and working for several years in New York, Stephen Marchione moved to Houston, Texas, where he builds his entire family of guitars, but Marchione has also studied privately since 1994 with Manhattan-based violin maker Guy Rabut. "I try to build one violin a year to keep my chops up" Says Marchione. He feels that building classical guitars and violins broadens his understanding of top thicknessing, tap tuning, and surface preparation. On the other hand, building electric guitars has taught him the importance of the fretboard in a player's appreciation of a guitar. Marchione is considered one of a very few leading-edge pioneers in the design of guitars that combine elements of both jazz and classical construction. This well-rounded approach contributes to the magic one finds in a Marchione instrument, a magic that is at once very broad yet truly individual.
| | |
| --- | --- |
| Body | 15" carved African mahogany |
| Top | carved Italian Alpine spruce |
| Finish | sunburst nitrocellulose |
| Neck | Honduras mahogany |
| Fingerboard | African ebony |
| Nut width | 1.7" |
| Neck profile | contoured C (1st .86"- 10th fret .97") |
| Fingerboard radius | 12"-14" compound radius |
| Frets | stainless steel 6150 |
| Tuners | Sperzel |
| Bridge | Gotoh tunamatic |
| Saddles | KTS titanium |
| Pickups | Marchione designed Dimarzio humbucking |
| Weight | 6.05 lbs. |