Collings I35 Deluxe - Preowned 2011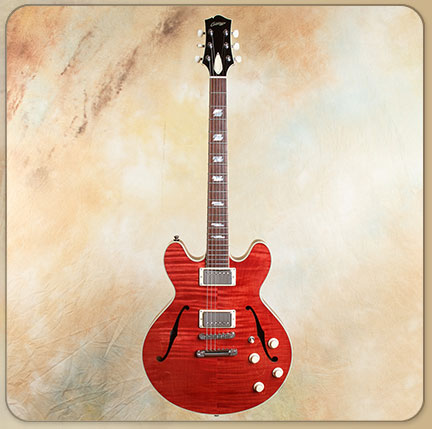 Price: $--SOLD
inquire - info@crguitars.com
call us -
hard shell case included
"I am just knocked out by Collings electrics. Bill Collings has taken familiar design platforms and elevated them to masterbuilt status. He's not reinventing the tried and true; he's making what works, work better than just about anyone on the planet. This preowned and immaculate Brazilian rosewood fingerboard I-35 Deluxe is a perfect example..." - Craig
CRAIG'S POV
I am just knocked out by Collings electrics. Bill Collings has taken familiar design platforms and elevated them to masterbuilt status. He's not reinventing the tried and true; he's making what works, work better than just about anyone on the planet. This preowned and immaculate Brazilian rosewood fingerboard I-35 Deluxe is a perfect example. Every element of this guitar has been tweaked to perfection. From the outstanding eastern maple top finished in a warm faded cherry to the grained ivroid control knobs, every detail is perfect.
I've already mentioned in my other Collings POVs, I truly love Bill's neck size and contour. If you feel comfortable playing a vintage '50's LP then you'll feel right at home here.
Plugged in, the sound just roars - much like the Collings SoCo Deluxe. There's a certain pop and woodiness that comes from the carved maple top. And, overall, I find it more acoustic than a laminated wood body.
This guitar also happens to be graced with one of the last Brazilian rosewood fingerboards to come out of the Collings shop. As of now, Brazilian rosewood is no longer an available option.
And, man, is this baby light. I can't remember ever playing an ES-335 that weighed 6.95 lbs. As with all Collings, the fret work and finish detail just can't be beat.
Having played hundreds of semi-solid guitars over the years, I really believe these are among the finest that have ever been built.
If you'd like to find out more about this item, just call or e-mail me. It would be my pleasure to talk to you about it.
ABOUT COLLINGS GUITARS
Bill Collings moved from Ohio to Texas in the mid 1970's. Spurred by a lack of interest in medical school, this move enabled him to combine lifelong interests in both guitars and tools into the challenge of stringed instrument building and repair. After a couple of years in Houston, several guitars and a few banjos later, he headed west to southern California. Making it only as far as Austin, where he shared shops with fellow luthiers Tom Ellis and Mike Stevens. From there, he set up his own small shop in a wooden "one car" garage. His reputation for outstanding quality and meticulous attention to detail quickly spread. In 1989, he rented a 1000 square foot space and hired two helpers. Fast forward to present day where Collings craftsmanship is respected by professional and amateur musicians alike…anyone on the quest for quality. Some of these include artists; Keith Richards, Lyle Lovett, Pete Townshend, Emmylou Harris, Andy Summers, David Crosby, Chris Hillman, Joni Mitchell, Don Felder, John Sebastian, Lou Reed, John Fogerty, Tim O'Brien, Pete Huttlinger, Kenny Smith, Brian May, Joan Baez, John Prine, Nigel Tufnel of Spinal Tap, and Steven Spielberg to name a few. You owe it to yourself to try one.
| | |
| --- | --- |
| Serial # | 11536 |
| Top | 15" fully carved premium flame Eastern maple w/ F-holes |
| Body | semi hollow Honduran mahogany w/ alder center block |
| Neck | mahogany one piece w/ ebony peghead veneer, .860 1st fret |
| Fingerboard | Brazilian rosewood |
| NUT WIDTH | 1 11/16" |
| SCALE LENGTH | 24 7/8" |
| FINGERBOARD RADIUS | 12" |
| INLAYS | parallelograms |
| FINISH | faded cherry nitrocellulose high gloss lacquer |
| BINDING | grained ivoroid w/ black-white top purfling |
| PICKUPS | custom Jason Lollar humbucking |
| HARDWARE | Tone Pros bridge and tailpiece |
| ELECTRONICS | 2 volume, 2 tone, and toggle |
| KNOBS, PICKUP RINGS | custom ivoroid |
| TUNERS | closed back nickel tuners with vintage style buttons |
| WEIGHT | 6.95 lbs |
| CASE | Collings custom hard shell |