Swope MG CRG Custom, 2019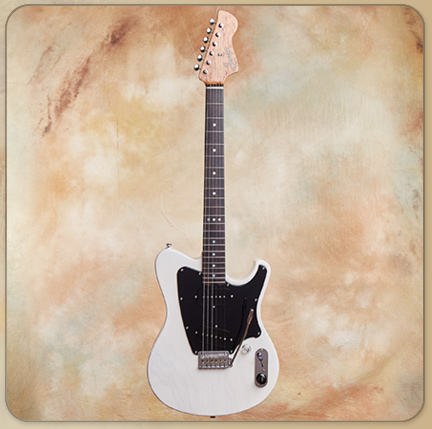 Price: $2,950
inquire - info@crguitars.com
call us -
Preowned 2019, mint condition
This MG offering is chock full of high end boutique essentials. The guitar deserved a bit of a star studded treatment. Chris Swope took his basic MG and upgraded it as much as he could for a CR Guitars custom version. That means a roasted birdseye maple for the neck, a luscious, beautiful and incredibly warm feeling dark chocolate Brazilian rosewood fingerboard and a select lightweight resonant swamp ash. The goal was to elevate the esthetics of the guitar because Swope's guitars deserve it
CRAIG'S POV
I've known Chris Swope for quite a few years, from back when he was working for Roger Sadowsky. There are few places that are better training grounds for builders than Roger's shop. He has a clientele of the most demanding and discerning pro players, and working for Roger is a master class on learning the differences between a good and a great guitar. Following his time with Roger, Chris went on to join the Gibson Custom Shop.
Chris, like all of my builders, goes to great lengths to make an instrument that is well thought out, skillfully built, with a laser focus on the end user. That's why I'm so pleased to welcome him as a new builder for me to represent at CR guitars.
His MG platform is steeped in the Fullerton tradition, but is far more dynamic than you might expect from a bolt on model. Chris crafts his own pickups, and the pickups on this particular model are inspired by old lap steels. They're superb; fat, rich and clear. In addition, the MG comes equipped with a push pull pot that engages them both - in effect creating a warm, rich humbucker sound. The note definition from the highs to the lows are spot on. The sum total is a guitar that's very versatile and totally engaging. The bridge pickup offers lots of shimmer and spank while the neck pickup has the nice warm sound of a breeze blowing somewhere between the surf and the roadhouse.
This current MG offering is chock full of high end boutique essentials. When originally ordered, I felt this guitar deserved a bit of a star studded treatment. I told Chris, let's take your basic MG and upgrade as much we can for a CR Guitars custom version. That means a roasted birdseye maple for the neck, a luscious, beautiful and incredibly warm feeling dark chocolate Brazilian rosewood fingerboard and a select lightweight resonant swamp ash. My goal was to elevate the esthetics of the guitar because Swope's guitars deserve it. The end result is a guitar deeply in the tradition, but one that offers THAT tone and more.
It is a complete joy to play. There's nothing like a great profiled neck topped with a Brazilian board, especially this select piece. (Thank you Roger!) What a tactile feel along with that sweet pop and bloom of the notes; something I look for in a great vintage guitar.
Bottom line, if you are in the market for a T style guitar this MG should be on your radar.
If you'd like to find out more about this item, just call or e-mail me. It would be my pleasure to talk to you about it.
ABOUT SWOPE GUITARS
Chris Swope's guitar building career path has taken him through several years as an apprentice at Mass Street Music in Lawrence Kansas, several years as production manager at Sadowsky Guitars in the heart of Manhattan's Time Square, several years in the Pro Shop and engineering departments at the Gibson Custom Shop and several years as guitar advisor for Private Reserve Guitars. His education in all aspects of guitar building, repair, design and engineering simply couldn't be more in-depth, having worked under some of the best luthiers, with some of the most incredible guitars (pre-war Martins, vintage Fenders, Gibsons, Gretsches, Rickenbackers, even D'Angelicos) and with some of the most demanding and star-studded clients. All this lead Chris to finally stike out on his own and Swope Guitars was born.
| | |
| --- | --- |
| Model | MG custom order |
| Finish type | "knock­around" nitrocellulose lacquer |
| Color | Mary Kay/Ttransparent white blonde |
| Pickguard | black acrylic |
| Body | ultra­light swamp ash, 2 piece center seam |
| Neck | roasted AAA figured birdseye maple |
| Fingerboard | hand selected dark chocolate Brazilian rosewood |
| Fingerboard inlay | pearl dot |
| Neck shape | open C, .840" @ 1st fret, .930" @ 12th fret |
| Scale length | 25.5" |
| Width at nut | 1.656" |
| Nut material | aged bone |
| Pickups | GTO set, single coil |
| Controls | vol/tone/3­way (push­pull tone pot bypasses the 3­way and combines coils in series) |
| Hardware | chrome |
| Tuners | Gotoh staggered vintage­style |
| Bridge | Gotoh 1099­T |
| Saddles | Highwood ergonomic vintage |
| Case | G&G hardshell |