Stephen Marchione Custom 15 Archtop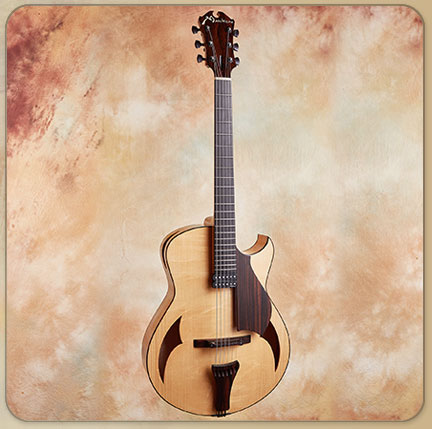 Price: $--SOLD
inquire - info@crguitars.com
call us -
custom case included
This instrument is absolutely stunning, a superlative world class guitar that has everything you could possibly want from an archtop instrument. It is both a museum piece and an eminently playable guitar. Beautiful to look at, with Stephen's distinctive aesthetic sense, and wonderful to play.
CRAIG'S POV
In May we received the first Custom 15 archtop from Stephen Marchione, and now I am very excited to report that the second one is here! It is every bit as stunning and musically expressive as the first, with a very similar tonal pallet, and just a few small differences.
The description for the guitar we received in May can be found here:
http://www.crguitars.com/site/items/stephen-marchione-15-custom-archtop
Because the tone and feel of both guitars is so consistent, I will borrow a few words from that description—which also will describe this agile instrument—and then discuss what is unique about the new guitar. Like May's gem, this instrument is absolutely stunning, a superlative world class guitar that has everything you could possibly want from an archtop instrument. It is both a museum piece and an eminently playable guitar. Beautiful to look at, with Stephen's distinctive aesthetic sense, and wonderful to play.
In your hands, this guitar feels like an extension of you, like your musical voice needs only to begin to speak and the guitar will respond in perfect sync. Everything feels just right, from the 15 inch body to the characteristically wonderful softV/full C Marchione neck.
Stephen somehow, miraculously, made this guitar with perfect tonal balance across the entire fretboard. Most archtops I have ever played struggle with such balance, and tend to sound better in certain regions of the neck. Of course, for any archtop I bring into CR Guitars, I am very particular about this issue, but Stephen's instrument is among the most balanced I have ever played. You cannot find a compromised note anywhere on the fretboard.
The guitar we have in the shop now has only a magnetic pickup (a custom Marchione humbucker made by DiMarzio), and instead of potentiometers with knobs mounted through the pick guard, this instrument has both volume and tone wheels under the pick guard. I really like wheels on archtops because I find most often you settle on the tone and volume for the music you are playing, and then leave the controls alone. Having the controls under the pick guard makes for a sleek look, gets the volume and tone controls out of the way, yet still provides very easy access should you need to make adjustments. And of course, as with all Marchione guitars, the wiring is mil spec, with the highest quality pots and wire.
The spruce top on the new guitar has a lovely and quite visually satisfying bear claw figure, also known as hazelficte. If you don't know about hazelficte, it is so named because embedded in the grain of the spruce is a second random pattern that gives the appearance that the tree was clawed (of course it wasn't actually clawed by a bear!). Generally it means that the tree was older growth, very dense, and had to struggle in its life with adverse conditions, all of which contribute to better properties for a guitar top. In fact, many players and luthiers believe that spruce tops with bear claw figure have superior tone. Of course the evidence is anecdotal, but I can say that this guitar has a wonderfully articulate and sweet tone that projects warmly and fully. It is also incredibly responsive to nuance and is one of the most musical archtop guitars I have played.
One other thing about the top that is worth noting is the way the grain is very tight in the center, but more open at the sides. I've mentioned this technique before, which traces back to the great Spanish classical guitar maker of the 1800s, Antonio Torres. The top of a guitar doesn't respond uniformly to all frequencies of vibrations, and if done well, orienting the grain this way makes a guitar that has fantastic clarity (tight center grain) but is also very warm and open (wider grain at the sides). It allows an astute and mindful luther like Stephen to really zero in on tonal perfection.
This guitar, like the earlier one, has exceptional balance across the entire fretboard—both in terms of volume and tonal richness—which really lets you take advantage of the shades of color different chords and inversions can express. With many archtop instruments I find that some chords don't sound good in certain areas of the neck, whereas this guitar opens the neck to all chords and inversions everywhere, with not a bad note to be found.
Honestly, though, sitting here with the guitar, I feel like all these words of description fall short. I could wax poetic all day about Stephen's genius with wood selection, his masterful luthery skills, about the decades of passion and love that led to this instrument; but I wouldn't capture the excitement of opening the case, pulling out this guitar and playing it, the magic of its tone and the perfection of its feel. If only I could put "WOW!" in giant neon letters that leapt off your screen and into the air around you then maybe I'd get closer to describing what it feels like to have this guitar in your hands.
If you'd like to find out more about this item, just call or e-mail me. It would be my pleasure to talk to you about it.
ABOUT MARCHIONE GUITARS
At one time in his life, Stephen Marchione spent six hours a day playing the guitar. Now he makes them—in fact, since beginning his career as a guitar maker in 1989, Stephen has created more than three-hundred guitars for some of the best guitar players in the world. The journey from high-school jazz devotee to "the finest young guitar maker working today," according to Chamber Music America, was a rich and complicated one. After establishing his own brand and working for several years in New York, Stephen Marchione moved to Houston, Texas, where he builds his entire family of guitars, but Marchione has also studied privately since 1994 with Manhattan-based violin maker Guy Rabut. "I try to build one violin a year to keep my chops up" Says Marchione. He feels that building classical guitars and violins broadens his understanding of top thicknessing, tap tuning, and surface preparation. On the other hand, building electric guitars has taught him the importance of the fretboard in a player's appreciation of a guitar. Marchione is considered one of a very few leading-edge pioneers in the design of guitars that combine elements of both jazz and classical construction. This well-rounded approach contributes to the magic one finds in a Marchione instrument, a magic that is at once very broad yet truly individual.
| | |
| --- | --- |
| Back & sides | flamed European maple |
| Top | hazelficte European spruce |
| Neck | flamed European maple |
| Fingerboard | African ebony |
| Tailpiece/bridge | African ebony |
| Binding | African ebony |
| Headstock veneer | African ebony |
| Scale | 25.5" |
| Nut width | 1 11/16" |
| Finish | thin nitro |
| Electronics | Marchione signature humbucker, volume & tone wheels under pick guard |
| Tuners | Sperzel locking |
| Nut | bone |
| Case | custom Marchione |