Radack, Master of Design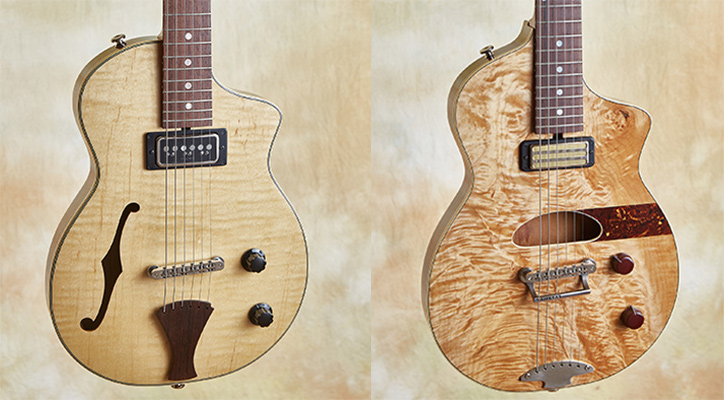 "Every once in a while, I come across a guitar that is a complete thought, meaning it's on the money right out of the gate. It's not a replica of an existing design, not a guitar built as a builder's conceit or a craftsman's whim. Instead, it's an instrument drawn from a store of knowledge from the builder's skill and player feedback. Add into that mix an inspired design, a sense that there is a niche to fill, and the desire to serve it, and you have the ingredients for something special And then, you hope it all works. Straight to the point, Radack guitars work. Beautifully.
"I've known Rob since his years as shop manager at Sadowsky Guitars, a place where attention to detail is second to none. Radack learned from the best about what makes a guitar an impeccably crafted instrument that's inspiring to play.
"Drawing inspiration from his fascination with short-scale and smaller body guitars, Rob made a short-scale instrument that was fully realized, a complete instrument, a guitar that a player would pick up and fall in love with before they even realized it was a short scale. Both the semi-hollow Hemi and the fully-hollow Pontiac are exquisite examples of his vision." - Craig
View the Hemi here--> https://www.crguitars.com/site/items/rob-radack-hemi-semi-hollow
View the Pontiac here--> https://www.crguitars.com/site/items/rob-radack-pontiac-hollow-flat-top
Rob Radack was the shop manager for Sadowsky guitars for 10 years before sticking out on his own. During his time at Sadowsky he doubled the output of the Brooklyn based shop while retaining the imeccable "fit and finish." Once Radack was working independently and after several years building S and T style guitars, he decided that rather than trying to read the market and build what he thought people wanted, or what would sell, he would pursue a new business model. He decided to build exactly what he wanted to build with complete creative freedom and zero concern wether there was a market for it or not. Rob trusted his own work and skill and felt confident he knew what made a guitar great - today's Radack Guitars was born!