Buscarino's Tree Of Life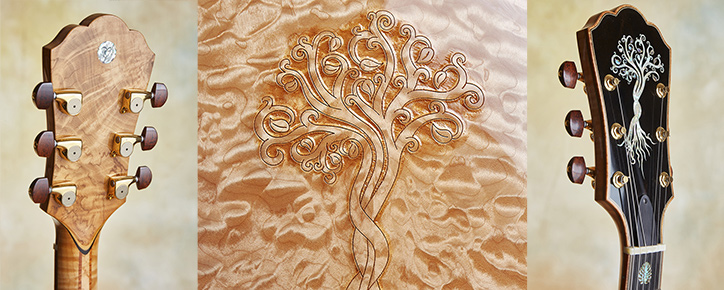 The first thing that will draw you to this fantastic archtop guitar is its inspired beauty and artistry. Luthier John Buscarino and inlay artist Larry Robinson tap into their remarkable skills to create this one-of-a-kind Tree of Life guitar. This instrument is a dedication to excellence. It's a true masterpiece, from the otherworldly wood selection to the wood carving to the immaculate and inspired inlay - yes, that's 18K gold inlay on the headstock and fingerboard. The level of craftsmanship on this beauty is remarkable, but beyond that, it is simply a great guitar to play.
John adds his magic formula to build a guitar that invites the player in; one that beckons to be played - acoustically or plugged in. The immaculately carved neck is perfectly profiled, just the way I like it. The tone is sweet, rich and warm, and wonderfully resonant. The hand-carved oak leaf side port enhances the acoustic experience. John Buscarino is one of our finest luthiers, and this Tree of Life guitar is a culmination of his skills as a builder of fine guitars.
VIEW THE FULL LISTING HERE --> Buscarino's Tree Of Life